We were supposed to join the PSE Bull Run for this weekend but when I saw the registration fee of this "Go for green" run, I immediately convinced my running friends to just switch into this race. Good thing, they all agreed. Well for a hundred peso fee, they really must! haha!
We left home a bit late since Jared suddenly woke up when we're about to go and we had to make him go back to sleep before heading off. Luckily, we arrived at the venue when it was still dark and the race hasn't started. In fact, it started about 15 minutes later than scheduled. Their reason was they were waiting for the sun to shine (yeah right).
Anyway, Gibo arrived a few minutes after us and people went all over him like he was a celebrity. He was so cheerful to everyone and also to my hubby whom he greeted with a handshake hehe!
Back to the race, it started differently with a countdown and not a gunstart (maybe because of the gun ban haha!) My sister Tin was with us and it will be her first time. After 7 or 8 minutes in the race I saw her behind me and she suddenly tripped. She couldn't walk after but there was a good man (a runner too) who lifted her up and took her to the sidewalk area. He also asked for assistance to help us get to the start/finish line. Few minutes after, an ambulance arrived and picked us up. It's just odd that they did not clean Tin's wound or they thought it was too small for a treatment.. And when we were dropped off at the finish line, a free goto was waiting for us. We ate it while waiting for Cel and hubby.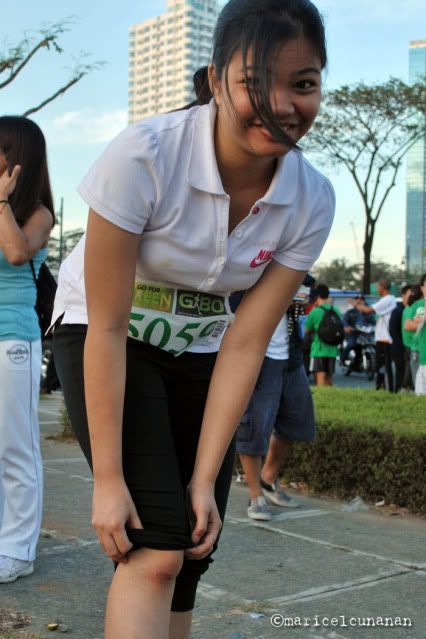 It's sad that I was not able to finish my first run but good thing my sister wasn't that hurt and she's now okay.
the two finishers but weren't able to eat the free goto haha!
Thanks to my friend
Cel
for the photos :)