Went to our province in the north last weekend to attend my niece's baptism (cousin's side). My sister was one of the godmothers of baby Sophia. The ceremony went well and we had sumptuous lunch at the reception.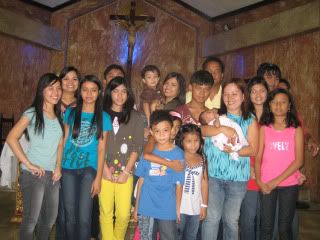 group pic with baby Sophia and some relatives
But before that, when we're still on our way to the place, we stopped over at Robinsons Starmills to shop for some things and grabbed some snacks. The husband and the little one tried the toy car for rent and Jared really enjoyed it. And boy, we had a hard time convincing him to leave after their 2 rides.