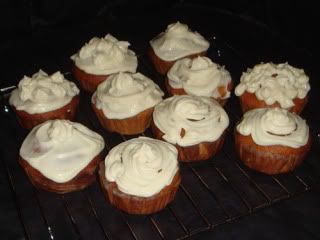 These are the very first cupcakes that I baked and it turned out very nice. These cuppies are moist and delicious, full with the flavors of carrots and ground cinnamon with the smooth and tangy taste of the cream cheese frosting.
Ingredients:
2 large eggs
1 cup granulated white sugar
1/2 cup sunflower oil
1 tsp. vanilla extract
1 cup all-purpose flour
1/4 tsp. baking soda
1/2 tsp. of baking powder
1/4 tsp salt
1 tsp. ground cinnamon
1 1/2 cup grated carrots (about 2 large carrots)
1/4 to 1/2 cup chopped nuts
Before preparing, preheat oven at 350 F/180 C.
Peel & grate the carrots.Set aside
Chop the nuts. Set aside.
Whisk flour, baking soda, baking powder, salt & cinnamon.. mix well. Set aside your flour mix.
Beat eggs until frothy.
Add sugar. Beat until it thickens.
Gradually add sunflower oil in a steady stream. Beat well.
Add vanilla extract.
Add the flour mix, gradually. Blend well.
Fold in grated carrots & nuts using a spatula/scraper.
In a muffin pan, place cupcake liners.
Fill about 3/4 of it using a spoon or laddle.
Bake for 20-30 minutes. Check after 20mins with a toothpick. If it comes out clean then it is done..
Let it cool on a wire rack.
makes about 10 pcs