We went to Amana waterpark (13 waves) in Pandi Bulacan yesterday to celebrate (in advance) Jared's 2nd birthday and also Mane's bday and Mother's day, all in courtesy of my PIL. :)

We arrived at the waterpark at around 10am. The place was so crowded and we had a hard time getting tickets for entrance and cottage... looks like Willie of Wowowee has promoted the place so well (and we're one of the victims haha!)

Entrance for day swimming is 250 for adults and 200 for children (4ft and below). We got the Executive cottage worth 1,500 - 2 storey cottage good for 10-15 persons. The cottage is fairly nice but goodluck on going up to the 2nd floor, you will surely have a hard time climbing the 'modern' stairs.
We all got disappointed when we learned that there were only 2 pools, the wave pool and the kiddie pool. They're boasting of the biggest wave pool in the country but I was not able to notice it. Maybe a sq.m. larger than the 2nd biggest pool? The wave pool was so crowded you can't even swim or do some floating and you will always hear "excuse me" everytime you move, as complained by my folks.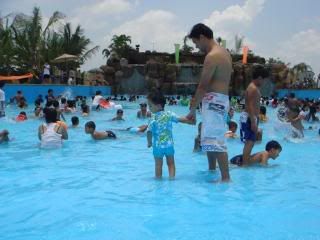 I was so objecting about Jared swimming in that pool because of all the dirt the pool has accumulated. I assumed most people took a dip into the pool without even taking a shower as there were no open shower areas near the pool.
I've noticed too that the shower area and toilets are not in proportion to the number of guests that the resort can accommodate. What's worse is most of the shower rooms are not working or there was no more water coming out of it so we settled for bathing Jared in the toilet where there's a faucet and a pail of water.

Overall, we were all UNimpressed with the place. In fact. I heard so many "
we-should-have-gone-to-this-and-that-resort-instead
" comments. It was really disappointing. I think they should have opened at a later time when everything is built and completed.
OK, enough of this ranting.. inspite of all those I mentioned we still enjoyed the day. Personally, it's because of so many food we had (takaw talaga) We had shrimps, calamares, spag, inihaw na liempo, hotdogs, caldereta, fried chicken. And ofcourse, H's and my family were all there so enjoy pa rin diba!