It was a very busy weekend for me and my family. We attended the baptism of my cousin's daughter last Saturday in Nueva Ecija. Woke up my little boy at 6am and gave him his first milk for the day. Since we were running late, we decided to have our breakfast in the car. Jared didn't want to eat anything at that time. He was so hard to feed and just ate very little for breakfast.
We arrived a few minutes late but we were actually just on time as the ceremony was just starting. I participated in the ceremony as I was a substitute for my cousin who was one of the sponsors but wasn't able to attend. Reception followed at their residence.
The little one didn't eat anything at the reception so we had to bring him to the nearest restaurant where there is soup. Yes, he cannot eat without soup. And after his lunch, he told us he wanted to ride the "horse" - the carousel and we let him accompanied by his papi (dad).
The following day, we went to Laguna to attend Cedie's birthday celebration at a hot spring resort in Pansol. This time Jared had his milk and breakfast before we got into the car so travelling was a breeze.
Once we got to the resort and the little one saw the pool, he immediately said that he would like to swim because he wants to use his baby float. He really loves water. I think he was a fish on his past life haha!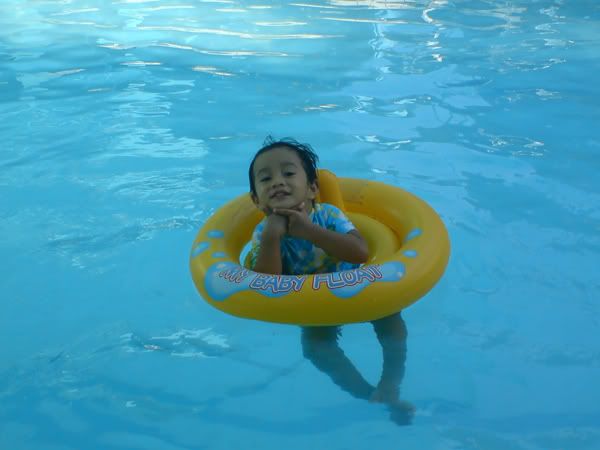 Oh and he had his first lollipop ( a light-up lollipop) that day. His Ninang Pauline gave it to him. Good thing he didn't finish off the whole lolly. It was too much sugar for him. He just ate it like an ice cream by licking it.
P.S. Thanks to ninang Pauline for the gift! Jared loves it!