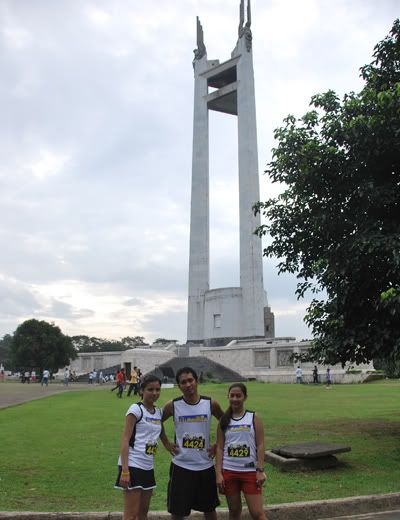 Joined the 1st Quezon City International Marathon yesterday. Hubby, SIL, and I ran the 5k category while my friend Cel ran her first 10k (way to go girl!). We left home at 4:15am but there was already slow traffic because of the rerouting. Good thing we found a good parking slot immediately.
The 5k route was so refreshing.. with the wide roads dedicated only for the runners, no hills and and almost straight path except for the one around the Quezon Memorial Circle. There were enough water and 100plus stations to keep runners hydrated. On the first water station, I decided to take a bottle of the 100plus drink so that I won't have to stop to another station again when I get thirsty but it turned out to be a wrong decision. Even if I have the drink with me, it added burden as I got an additional load to carry. I should have just dropped it somewhere but for some reason I didn't! my bad!
Everything was nice on this race except for my performance. I clocked in at 47 mins (unofficial) which was the same as my very first 5k! arghhh! Now I don't know if I will run 10k on the next race or just stick to 5k till next year. Sigh..