The wedding happened 2 weeks ago. I've been really wanting to blog about it but been busy with a lot of things including my son who got sick with cough and colds. And because of that he lost his appetite. Eating has become so hard for him and so stressful for me. But now, he's getting a little better and I hope it continues. OK, back to the wedding..
I went off early in the morning as requested by my sis so I can be made up on time for the pictorial. Initially it was planned that my little one would come with me so that he can join the family pictorial but he got sick the night before so we decided that he'll just go at a later time with hubby and his family. And they arrived a little late than planned so we only had a short time remaining for family pictorial and headed straight to the church.
The ceremony was held at Manila Cathedral in Intramuros, Manila. It was a huge church and has a long aisle perfect for weddings. My son was the ring bearer and despite of having fever at that moment, he still walked well during the procession. Thanks to our practice walking. We went to that church 2 days before the big day so Jared can practice walking down the aisle and get familiar with the place.. and it worked! only, he kept looking at the right side looking for his papi haha!
And here's the stunning bride with my beautiful mom during the procession. It's sad that my dad was not here anymore to witness this very special day of my sister.. I miss him.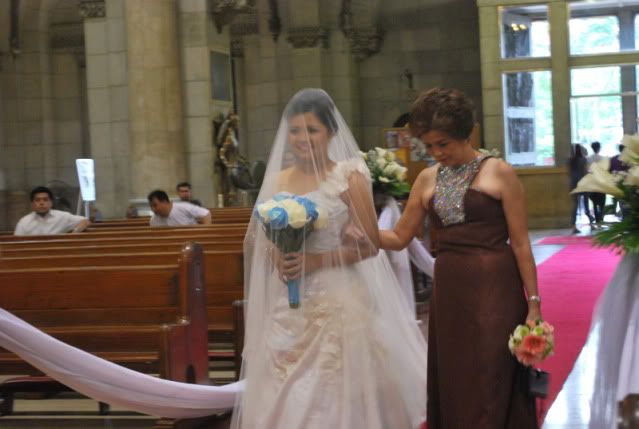 The little one is not really feeling OK so he just lie down the church bench and rest and finally fell asleep.
But then after a while, I woke him up so he can join the pictorial (bad mom). anyway, it was at the latter part of the ceremony.
The reception went really well. Very nice place, lots of good food, fun at the photo booth and good music from the Manila Philharmonic Orchestra. The best part of it was the groom prepared a surprise song number specially for his bride. Everyone was really touched. I loved him for that! Here are some photos..
at La Castellana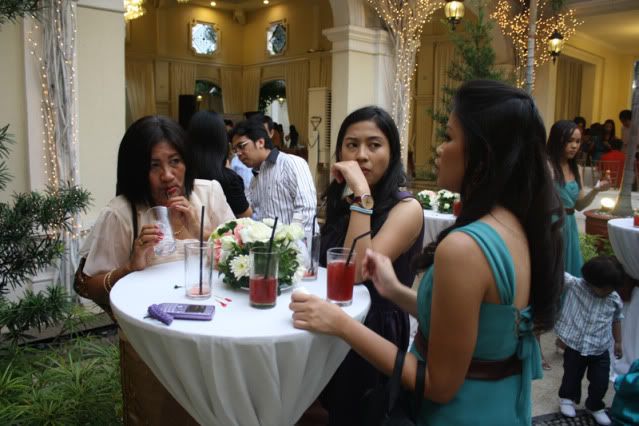 with the two loves of my life
the couples' first dance
And now, I propose a toast to the happy married life of Jops and Arlene. Cheers! :)