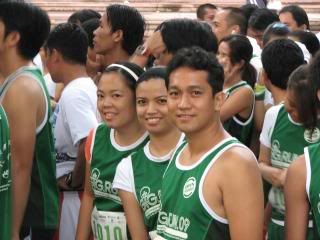 It's 5k again at UP and this time we were not late. We still had time for stretching (though we did not) and sightseeing (of celebrities). We decided to stay at the front side this time with all the fast runners. About a minute in the race, I was starting to feel tired. It's really frustrating that after about two minutes, I started walking. My friends advised me not to walk while in the race and that it's better to run slow than just walk, but I could not do it. So I alternated walking and running but it's more of the walking. I was not able to check my time at the finishline but I think it's about an hour argggh!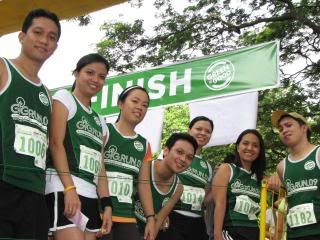 But after the run, we were greeted by lots of freebies. We got chips from E-aji, sparkling water, and breakfast meal from monterey. Nice and generous sponsors. I was already full even before we had the real breakfast at.... tadah! Mcdo again hehe!
And another thing, we were able to take a picture with one celebrity, JC of Unang Hirit, not sure of his surname though..